When we're ploughing through the week, knocking down action items and juggling schedules, all while trying to retain some semblance of a social life, creativity can be the last thing on our minds.
We can get to a point where we sometimes feel "empty", that we're pouring ourselves out into the world, but not replacing it with anything meaningful.
So, our minds turn to "being more creative". Yes! That's it, you tell yourself, I need to be more creative! Then, our minds start whirling about what that means, we start and stop, or we don't start at all. We research, we write, or draw, then block ourselves with thoughts about what people will think of what we're creating. So we stop. And the cycle begins again.
Artist DeAnne Olguin Williamson knows this, so she started "art journaling" workshops to help women kickstart a more personal - and realistic - type of creativity.
DeAnne, how did you choose the path of being an artist?
I've always been interested in art, but it has definitely evolved. Art was the only thing I wanted to do when I was younger but I also wanted something more practical. I was a graphic design major in college and worked in that field for many years. When my son was born, I quit working and changed direction. I began painting. Now, painting and teaching art are my main loves. I think in some ways art just finds you. I didn't expect that I would be a painter and yet, something called me to it. I'm glad I listened to my instinct because I know this is what I'm meant to be doing.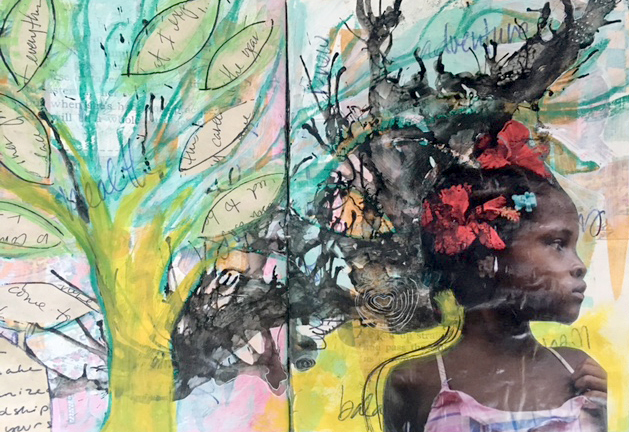 What is art journaling all about? Why do you love it?
Art journaling is way of expressing your thoughts, goals and dreams visually. It's about self-discovery. I love teaching art journaling because you don't have to be an artist to do it. Everyone has a creative side, we just don't all use that part of ourselves regularly. I truly love that moment when someone works in an art journal for the first time and realizes they can create something meaningful with art and words. An art journal is very personal and as it's in book form, it's not something that needs to be put up on the wall or seen by anyone. It is extremely liberating when you know that you are creating art just for yourself. It takes the pressure off of the final product and lets you focus on the process of creating. That's where all the beauty lies. It's a great way to spend time caring for yourself and giving yourself an opportunity to explore.
Sometimes "being creative" can feel like such a leap when we're in our day to day. What's the best way to get started?
The biggest hurdle is the first hurdle. Just doing it. Sometimes we can get up in our head about all the reasons why we shouldn't try something. I truly believe that if you get quiet, and listen to your inner voice, it never steers you wrong. If something is calling to you, you need to honor that by just taking the leap. You have to take that first step out of your comfort zone, that's where all the magic happens. That's the most difficult part, the first step. But if you will allow yourself the time to do something just for you, you will never regret that decision. It makes you better in every way.
How have other women helped you?
I definitely credit the women in my life for getting me through my journey. A few years ago, I was feeling as though my women friends and I were not connecting on any meaningful level. We were talking about kids and play dates but nothing below that surface. I took a bold leap and invited some friends over to talk about our goals and our challenges. We met once a month and had a different topic each time. It was transformative. I think every woman in that group would credit the time we spent together with getting her to her next goal. I believe that when women band together to support each other, anything is possible. I think you need a tribe. My tribe has gotten me through everything and given me the confidence to get where I am.
On the days when you don't want to "be creative" what do you tell yourself for motivation?
I have found that inspiration comes only after I get myself working and not the other way around. Inspiration usually strikes while I'm already in progress. The trick is to just get myself to the canvas. Even if I just start by organizing my studio, as long as I'm in there, creativity starts to flow. I set pretty regular painting times and I treat it like a job. Creativity is a practice. The most inspired moments happen when you least expect them so you've got to be ready.
Find out more about DeAnne's powerful art or sign up for a workshop on DeAnne's website.